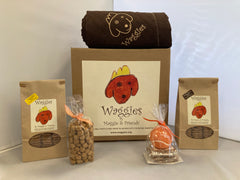 Waggies Blanket Gift Set
$50.00
Surprise your favorite canine friend with this beautiful 38x48" quilted doggie throw. Perfect for the car or couch. Choose between the chocolate brown or the natural tan as shown.

Also included are three bags of Waggies' deliciously healthy peanut butter and chicken treats and a tennis ball paired with our two-fer packs. The perfect gift to welcome a new family pet or to say Happy Birthday. Write your sentiments in the comment box and a gift card will be included.
---
Chicken-flavored products contain: Whole wheat flour, chicken broth, corn oil, cornmeal
Peanut butter products contain: Whole wheat flour, organic peanut butter (with no artificial sweetners), skim milk
We use premium, all-American ingredients in our products. All packaging and labels are also produced locally in the Wilmington, Delaware area.