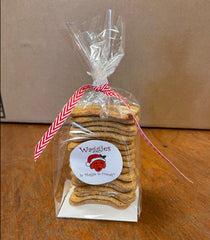 Stocking Stuffers - 2023 Edition
$6.00
18 peanut butter bones stacked in a presentation-ready package tied with a holiday bow and our holiday-hat-wearing logo on the label.
---
Peanut butter products contain: Whole wheat flour, organic peanut butter (with no artificial sweetners), skim milk
We use premium, all-American ingredients in our products. All packaging and labels are also produced locally in the Wilmington, Delaware area.