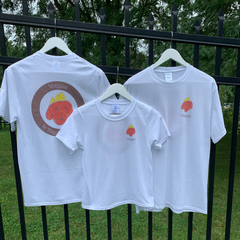 Short Sleeve T-Shirt
$16.00
We're excited to add branded clothing to our lineup so you can show off your pets' "Waggies Love" for everyone to see!  Large Waggies logo in a circle on the back with small logo on the front breast pocket area.
Limited availability so order before they run out!
Content: 50% cotton, 50% polyester
Care: Machine wash cold, tumble dry
---
We use premium, all-American ingredients in our products. All packaging and labels are also produced locally in the Wilmington, Delaware area.