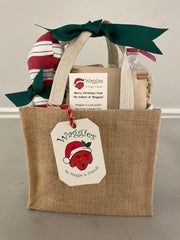 Christmas Gift Bag - 2023 Edition
$25.00
Two bags of bones and one bag of bits with a bonus dog toy in a jute gift bag.  This is perfect for a furry friend on Christmas morning.  All three flavors of our products will be included.
---
Chicken-flavored products contain: Whole wheat flour, chicken broth, corn oil, cornmeal
Peanut butter products contain: Whole wheat flour, organic peanut butter (with no artificial sweetners), skim milk
Yammies products contain: Sweet potatoes, whole wheat flour, corn oil
We use premium, all-American ingredients in our products. All packaging and labels are also produced locally in the Wilmington, Delaware area.