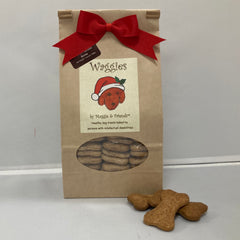 Chicken-Flavored Bones (Holiday Packaging)
$7.00
Healthy chicken flavored bones made from the finest ingredients with no added preservatives, delivered in festive holiday packaging.
---
Chicken-flavored products contain: Whole wheat flour, chicken broth, corn oil, cornmeal
We use premium, all-American ingredients in our products. All packaging and labels are also produced locally in the Wilmington, Delaware area.